Description
Now available on the 4G LTE Network, the iTrail SOLO works with a tracking subscription, pick a location update data plan to be meet your tracking needs. The best cellular networks are used to stream your tracking data to the iTrail LIVE app and web tracking platform. Utilize geofences, alerts and reporting for devie management. All plans are available and billed Month to Month or Yearly, iTrail never charges a cancellation fee.
Location Updates at 30 or 60 Seconds
4G LTE
14 Day Battery Life @ 1hr/day
Auto Sleep Mode
On/Off Switch
Web-Based Software
Historical Playback
Text Reports
PC/MAC Compatible
Text Message(SMS) Alerts
Arrival Alerts
Departure Alerts
Low Battery Alerts
Navigation Feature
SOS/Panic Button
LiveShare Feature
Perfect for teen drivers, asset tracking, executive protection, any fleet vehicles
Subscription plans below: Cancel anytime with no penalties. All plans and device works in All of the USA, Canada and Mexico.
Unlimited Data

Receive Alerts

Generate Reports
Personal $29.95/month 1 minute Updates
Personal Plus $34.95/month 30 second Updates
iTrail Solo 39.95/month 10 second update
For more detail go to www.myitrail.com
Get the iTrail Live app for iPhone or Android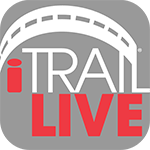 Please Note: Once your tracker has been installed, it may take up to 24 hours for it to connect to Cellular Network and begin reporting. Also note that this unit does not track outside the US. If service is inactive for 60 days or more, the device may need to be returned for reactivation.
Residual plans available for qualifying re-sellers
Volume discounts available
KJB Security or iTrail does not support the illicit use of GPS tracking devices. This product is offered for the express purpose of securing personal or company property, and ensuring the safety of individuals with their consent. Take a look at our new magnetic stash box.